THE FRESHEST PRODUCE YOU'LL EVER TASTE
At Mt Nicholas Station you will be served only the very best of local produce, much of which is grown on the Station. Our established vegetable garden provides fresh seasonal produce, our free-range hens supply us with delicious eggs and succulent high country meats are always on offer.
Hearty breakfasts, gourmet lunches and traditional evening meals prepared by your hostess Adrienne, will be sure to satisfy every appetite.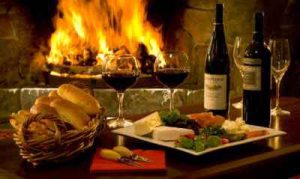 Her expert knowledge of New Zealand wines will ensure the dining experience is complete. 
At White's Bay Cabin dining options include dining with your hosts where you will enjoy a friendly family like atmosphere, dining in the cabin where meals will be delivered to you, or having a delicious picnic packed that you can enjoy at your leisure in a location of your choice.
Traditional High Country meals are provided for those staying at the Shearers' Quarters. There are also self-catering options available in the fully equipped kitchen.
Your Hosts
Bruce and Adrienne have extensive experience in both business and hospitality. They have a passion for the outdoors and the High Country lifestyle. Their combined skills and expertise will guarantee your experience at Mt Nicholas Station will exceed all expectations.

Mount Nicholas Station
Bruce Collins & Adrienne McNatty
P.O. Box 1882
Queenstown
New Zealand
Phone: +64 3 409 0712
Mobile: +64 27 383 6699